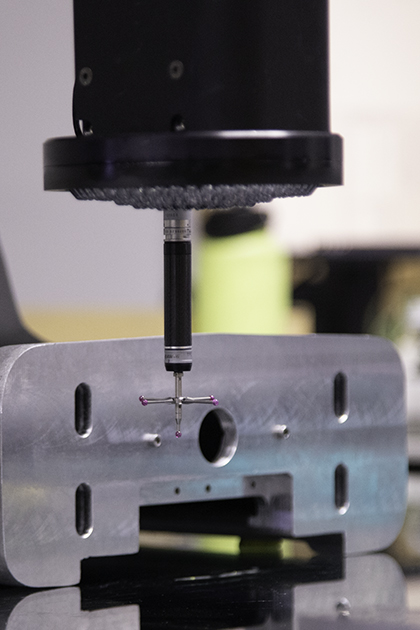 Integrate vision and touch probe measurements with the VERTEX and EXCEL machine models.
Touch probe measurements include an automatic approach vectoring and solution iteration.
The touch probe kit includes a multi-port probe rack with kinematic mount to the machine.
InSpec software provides an intuitive probe assembly interface, automated probe calibrations and probe docking
TOUCH PROBE KITS SPECIFICATIONS
RENISHAW® TP200/TP20 Probe Body.
RENISHAW® TP200/TP20 Probe Module/s.
M2 Five Way Stylus Center.
M2 Stylus (5 ea. 3 mm x 20 mm).
M2 Extensions (2 ea. 10 mm, 2 ea. 20 mm, & 1 ea. 30 mm).
Multi-Port Probe Change Rack (2, 4 or 6 Port).
Module, Stylus, and Fixture Storage Box.
Micro.Vu Offset Fixture & Reference Sphere Assembly.
Mounting Hardware, Cleaning Kit, and Case.
Micro.Vu Measuring Systems are equipped and ready to incorporate laser triangulation sensors.
Available specular and diffuse modes configurations.
Collects data as it moves between two programmed XYZ locations, ideal for surfaces' flatness and Z distance measurements.
The LSM4-10 and LSM4-2 are supported by the VERTEX 261, 341, 342, EXCEL 511, 512, 701, 702, 704 models.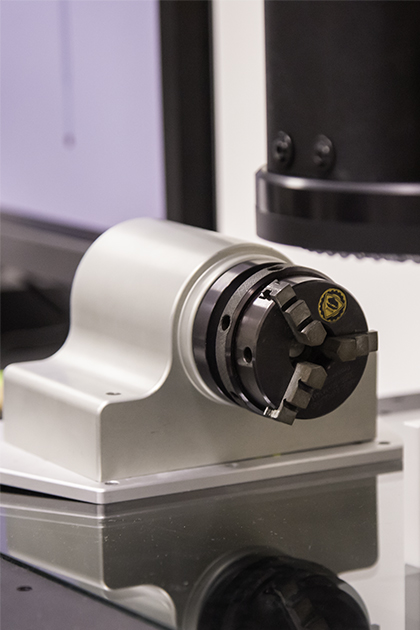 The RSD-60 Rotary device can be mounted vertically or horizontally on the VERTEX and EXCEL machine models. InSpec software integrates the rotary seamlessly and offers an intuitive on-screen interface. The rotary allows rotating parts to a position relative to a coordinate system or the current position. This device is commonly used for measurement of medical and dental parts, bits, cutters, valves, fittings, and multi-sided parts.
| SPECIFICATIONS | RSD-60 ROTARY |
| --- | --- |
| External Dimensions (mm) | 95 × 150 × 80 |
| Centerline Height (mm) | 60 |
| Maximum Speed (°/second) | 120 |
| Resolution (Arc Seconds) | 1.3 |
| Accuracy (Arc Seconds) | +/- 15 |
| On Axis Capacity (Nm) | 1.5 |
| Chuck Thread | M14 × 1.0 |
| Weight (kg) | 1.5 |