Geo Informatics specializes in 3D/2D Inspection of Assemblies and Child parts. With experience in such projects exceeding 10,000 parts, we have the technology and experience to inspect parts as small in size as a need to assemblies as big as an aircraft. We can provide precise and accurate measurement required to inspect even the tightest tolerance.
Experience with inspection 1000s of different types of parts
Long experience with working with Tier 1 and OEMS
Organization with biggest range of tools to inspect a component –
a. Articulated arm based probing system (Portable Coordinate Measurement Machine) x2
b. Laser Scanner x2
c. Blue structured light scanner x3
d. Hand held scanner
e. Leica Laser tracker AT960
f. Optical tracker (Metronor) x 2
g. Vision Measurement Machine x 3
h. Co-ordinate Measurement Machine

All our equipment are from countries such as USA and European nations, providing best in class quality accuracy and precision with reliable results

10+ dedicated application engineers only for scanning and inspection

Experience with different types of parts such as tools dies and molds, machined parts, casting parts, rubber parts, gear parts, assemblies, sheet metal components etc
What Processes geo Informatics follows for 3D/2D Inspection
Workflow we follow for 3D Inspection using Non-Contact Scanners
Input – Physical Part and CAD model
The Part is scanned with a 3D Scanner either blue light or Laser in nature
The scanned data of the part is compared against the CAD model to generate a Comparison report which shows a color report of how much material is extra or less than the requirement
A representation is shown of whether the component is within tolerance or not
The part can be fit on CAD model in multiple methods –
a. Best fit alignment
b. PLP (Plane Line Point) alignment
c. RPS (Reference Point System) alignment
Various surface points are taken on the 3D part to show the deviation of the component in all the X Y and Z dimensions
Output – 3D color report showing deviations in the part with coordinates
Workflow 3D inspection using Articulated arms with touch probes
Input – Physical Part and CAD model
The physical part is aligned to the CAD model using various alignment methods
The trigger touch probe touches the profile on the physical part and various points are generated which are compared against the CAD model
A report with deviation in X Y and Z is obtained of that point in comparison to the CAD is found
Output – Report with Deviation points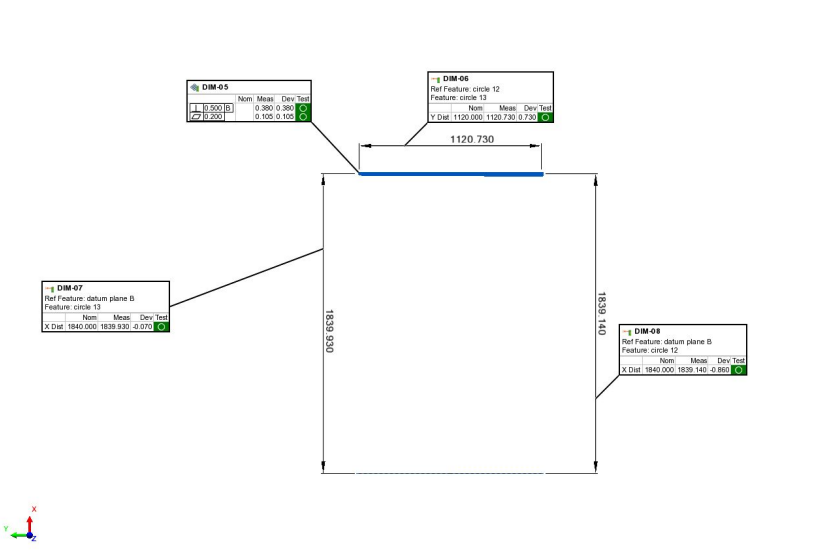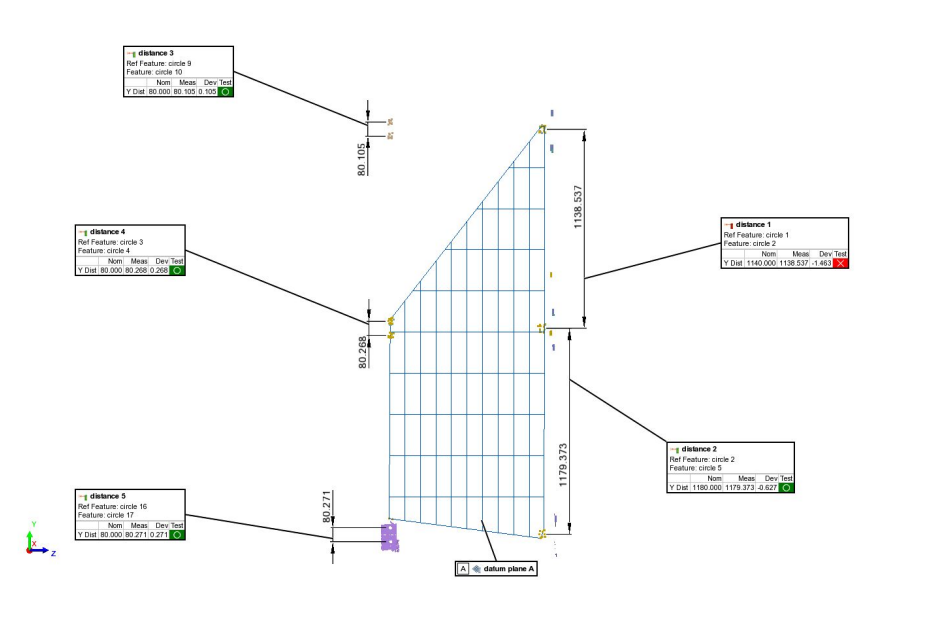 Workflow of 2D Inspection with reference to 2D Drawing
Input – Physical part and 2 D drawing
The physical part is scanned and a section is cut from the point cloud data
The section which has been cut from the point cloud data is then compared against the 2D drawing to give accurate inspection results
Output – Report with deviation of dimensions
How do we support our customers with our services?
If the part is small in size and weighs less, we can bring the part to our lab and inspect the component
If the part size is big and is heavy, we can bring portable equipment to you premises for your Inspection. We do provide services for the customer onsite
Geo Informatics strictly follows the confidentiality of the customer and their parts
How does Geo Informatics price their services
Geo Informatics does the pricing of its services either in
Pricing per part depending upon Scope of Work
Hiring of a machine for certain number of days
Contract based hiring for large orders
Where all are Geo Informatics labs present across the Country
Geo Informatics has designers in Cities such as
Delhi / Ghaziabad – Near Kushambi Metro station
Bangalore – Near Peenya Industrial Area
Chennai
Jamshedpur
Pune
Frequently Asked Questions
The need for 3D/2D Inspection using such advanced tools is for parts is where either the tolerance in which the part has been manufactured is very tight or the part has a very non-geometric profile. These tools also support in the inspection of Large-sized components.
The price band of inspection of these parts can vary from 5000Rs per part and go up 50,000Rs depending upon the size complexity and number of days required for Inspection of Part.