Geo Informatics is a company that provides various Plant engineering Services in the Domain of Reverse engineering of parts for drawing and CAD model development, Inspection of Large-Sized Parts, Creation of manufacturing drawings, etc. to Plants such as Power Plants, Steel Plants, Refineries, Cement Plants, Oil and Gas, Mining Machinery, etc. The main aim of Geo-Informatics by providing these services is to enable Indian Plants to be able to develop their own spares at a cheaper cost. This also supports the make in India initiative of the Indian Government.
What are the Services that Geo Informatics Provides in the domain of Plant Engineer?
Geo Informatics Provides Services Such as –
Conversion of 2D drawings into 3D CAD Models & Vice Versa
3D Scanning for Generation of CAD Models & 2D Drawings
Drawing Development from Physical Part
Coupling Face Mapping & Alignment
2D Drawing Digitization
Off-Shore Scanning & Data Collection
Plant Layout Scanning & Reverse Engineering
What are the Advantages to the customer of the Services provided by Geo Informatics?
The advantages of Plant Engineering Services of Geo Informatics enable the customer to –
Be Less reliant on OEM for Spare Parts
Break the monopoly of OEMs for Spare parts while having an economical Alternative
No Compromise on Quality of Design of Parts
Overcome Supply bottlenecks due to Geo Political Challenges
One time activity and investment, once the design is made the Plant can anytime get the spare part on-demand in future
Example of drawings of Spare Parts our team made
In which all domains of Plant Engineering do Geo Informatics work in?
Geo Informatics works in Reverse Engineering, Drawing Development etc. of Parts included in Plant Engineering Domain Such as –
Turbines
Shafts
Blades
Rotors
Gear Profiles
GIMBAL Injection Assembly
Drive Wheel Assembly
Coupling Facings
Catenaries
Couplings
Rotor Arm Blades
TG Deck
Child Parts of Physical Part
CAD Model Assembly of Child Parts
Process from an Old Part to a New Part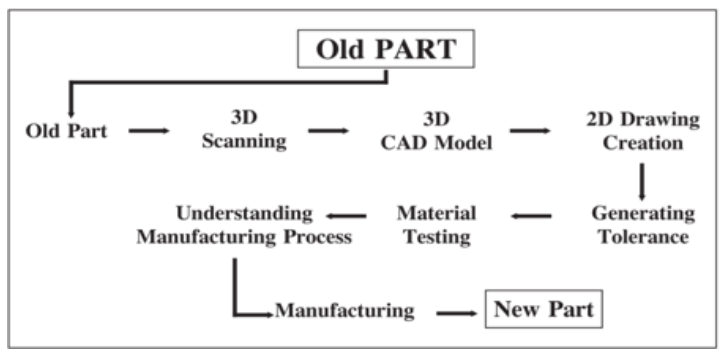 Inputs – Physical Part
Output – 2D Drawings and 3D CAD model
The outputs which we submit to the customer are usually 2D Drawings or 3D CAD models
Steps –
We come to you location where the physical part is with our 3D Scanner
We use our Scanner to digitize the part and generate a Point Cloud data of it
We Create CAD Models and 2D Drawing of Part from the Point Cloud Data
Steps –
Our Engineer Measures the part with first principle tools
On the basis of the measured dimensions, he generates a hand sketch drawing
The hand sketch drawing is then converted to a 2D Drawing or a CAD Model
Output Information of the CAD model we make -
Software we use for CAD Modelling –
Uni- graphics (UG/ NX)
Pro E (Creo)

Design – X
What would be the accuracy of the CAD Model?
Accuracy of a Cad Model depends on the application. For e.g.:
In tool design part is modelled with a highest accuracy of 50 – 100µ
For another applications accuracy of the Model is 100µm plus.
What are the types of CAD models which we can give?
We can give Parametric Models and Non-Parametric Models
They would be in –
Non-Parametric (IGES/ STEP/  XT)
Parametric (UG Part file, Pro E Creo Model) File Formats
Output Information of the 2D Drawings we make -
From the CAD model we will make 2D Manufacturing drawings which customer can use for manufacturing parts.
We use AutoCAD to generate the 2D Drawings
Providing Part material Information
We also provide the chemical composition and the material of the part required during manufacturing of the part
Sample Report –
Some of our Customers using Plant Engineering Services
Some applications we work with our customers for are
BHEL Haridwar
Scanning and Inspection of Blade Castings for Impeller.
BHEL Rudrapur
Portable CMM Inspection Services
UltraTech Cement Works Chittorgarh
3D Scanning of Turbines.
Aditya Birla Bharuch
Scanning of Turbine Parts.
Reliance Industries Limited Mumbai
Scanning and 3D CAD Modelling of Parts.
NTPC Solapur
Drawing development of spare parts.
MRPL Mangalore
3D Scanning and Modelling and 2D Drawing Creation.
NTPC Anta
Development of Manufacturing Drawing of TG Deck and Rotor
NMDC Kirandul
Scanning modeling and 2D drawing creation of spare parts with Material Testing.
Adani Raipur
Hiring of Draftsman on Contract Basis
Tata Steel
Drawing Development of Spare parts.
NTPC Muzzafarpur
Drawing Development of Spare parts & Digitization of drawings
NTPC Khalgoan
DEVELOPMENT OF DRAWINGS FOR ASH HANDLING DEPARTMENT SPARE
Adani Raipur
Services for Laser scanner on hiring basis for development and Digitization of drawings as well as modifications of hard copy drawings.