About two plus decades ago Geo-Informatics was born to provide product sales and Engineering Services to the Automotive Industry. Geo Informatics still today aims to provide the Indian Automotive Industry with modern Industry 4.0 Oriented Metrology Solutions. From Solutions for Online Inspection of Child components to Machines for Standard Room Inspection, Geo Informatics is a one-stop solution provider for the Automotive Industry. With over more than 1000+ customers in the automotive industry linked to us via Engineering Services or Using our Product based Solutions, we hope to continue to add value to the Indian automotive industry in the present and the future to keep it competitive in the global industry scenario.
Our Products based Solutions for
Automotive

Industry
Solutions For Child Parts
Vision Measurement Machine
Machine parts are very common, especially in engine components. Micro Vu VMM not only provides a very accurate Inspection with the capability of Inspection apart within 2-3 microns but also does the same inspection with speed. With about 120 machines sold in India in the automotive industry, geo Informatics has deployed this machine successfully for applications involving inspection of precise machined parts. This machine is capable of also integrating with Probe and laser sensors and by default comes with the vision sensor. Not only can standard dimensions radial and liner linear can be measured, but also dimensions involving complex GD&Ts such as Symmetricity, Runout, Flatness etc. can be Inspected using this machine.
Blue light and Laser
Scanners
Blue Light and Laser Scanners are used to inspect automotive components such as Tools and Dies, Fixtures and Sheet metal Parts. Wherever the profiles are non-Geometric in nature, Blue Light and laser scanners enable Inspection of Components by generating a point cloud data of parts and comparing them against the 3D Cad model to get the deviation on the part. On the basis of this information Mould, tools and dies can be fixed so that the parts are produced within the correct dimensional tolerances.
Portable CMMs are very commonly used for the inspection of child parts that are large in size. Unlike a Standard CMM, portable CMMs use a technology that allows them to be moved from one location to another mid inspection allowing it to inspect parts that are big without sacrificing accuracy. One of its biggest advantages over other equipment is that it is fast and easy to use.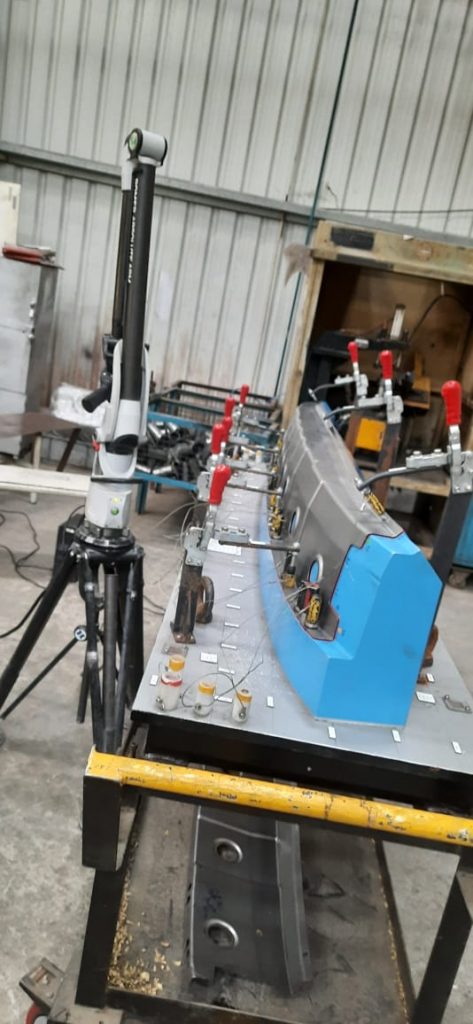 Cognex 2D cameras provide the capability of Inspection parts inline. They are specially optimized for checking Visual Defects on the parts. They combine machine learning technology with artificial Intelligence to build Sensors that can provide very high accuracy in the detection of such defects. Cognex bar code readers are also capable of reading all types of bar and QR codes on the line itself. Geo Informatics integrates these sensors with the conveyors PLCs etc., to build and End to End custom solutions as required by the customer.
3D automation solutions by LMI provide sensors and machines that are not only used by industry for inline inspection of assemblies but also for picking and placing components from one line to another during the assembly process. The advantage of 3D LMI sensors lies not only in the fact that it's a 3D sensor that is capable of scanning the components in all the three-axis and able to measure the depth but also in that it can inspect components at record speeds without the need of a controller. The applications in which Geo informatics have deployed these sensors are for OCR reading on Engine Chassis number, Inspection of machines components on the line, Inspection of Linear tubes, Inspection of small fitment parts, Inspection of connectors, etc. Other applications include in the domain of robot orientation optimization, calculating the density of a part, calculating the volume of an engine block, etc. These Sensors also use technology that can check parts even if the method of checking is black on black witch 2D cameras cannot
Solutions for Automotive BIW, Chassis and Assemblies
Gap and Flush Measuring
Laser Equipment
Conventionally Organizations use Gap and Flush measurement tools such as step gauge and filler gauge to inspect gaps and Flushes on vehicles. These gauges are dependent upon where people place them on the profile of the gap and can be easily misunderstood and misrepresented. GapGun by Third Dimension provides a laser Gauge for inspection of Gaps on BIW and finished assembly of cars. Not only can it measure sheet metal to sheet metal gaps but also measure gaps on translucent objects such as car lights. With all major OEMs in India using this technology, GapGun has proved itself to add value to the Quality process of Assembly oriented OEMs
Laser and Handheld
Scanners
Laser Scanners often mounted on Portable CMMs enable quick and fast inspection of BIWs owing to their speed of Inspection and portability. They can compare the profile of BIW by generating point cloud data against the CAD model to give the deviation of the actual part against the intended design
Laser and Optical Trackers with SMR,
Touch probes and Scanner
If the size of the chassis exceeds 3-4m, laser trackers become the optimum tool in such parts. These tools are often used to measure dimensions such as hole to hole distance, length, parallelism, etc in such chassis. They are also used to simpley find the Cordinates of the Profile
Seal Gap Measurement
Sensors
Seal gaps are measured at the moment in the industry using clay. This technique usually gives unreliable results due to the low firmness and elasticity of clay. Seal gap measurement sensors provide an alternative solution to measure such gaps using inbuilt strain gauge to mathematically compute the gap with high levels of repeatability and accuracy
Solutions for Automotive Lines, Fixtures etc
Laser and Optical
Trackers
Laser trackers have various applications during the maintenance and deployment of the automotive assembly line. Due to the sheer number of fixtures mounted on an automotive line, most tools are not even able to reach the profile where the inspection of the fixture needs to be done. Laser trackers help in this process by using the SMR and touch probes to reach the location and accurately measure them. With capabilities of giving inspection results in as accurate as some microns over length of 10m, laser trackers are one of the best equipment for validating large fixtures over assembly lines
Portable CMM with
Scanners
Portable CMMs are used to Validate fixtures and Dies within a size range of 0- 5 meters, they using the probing and scanning technology can compare the Fixtures against the CAD model to check deformations on the fixture as well as validate the X, Y, Z coordinates of the various profiles of the fixture with respect to the Drawing/CAD defined Datums
Quality Management Systems
by HighQA
Quality management Solutions by HighQA provides OEMs, Tier 1 Vendors and others with the capability of automating their Quality process. They enable the organization by Automation ballooning of 2D drawings, automating Inspection plan generation, enabling data collection from the shop floor, integrating with Bluetooth/WiFi based devices, SPC analysis, generating combined reports with nominals/actuals. Soon APQP process automation will also be available in the software
Our Engineering Services based Solutions for Automotive Industry we do using the above Products:
3D Inspection using 2D Drawings (2D Inspection/ Layout Inspection) and CAD Model (100% Inspection/ Profile Inspection).
3D Scanning for Reverse Engineering (Physical Part- Scan Data- Cad Model- Part)
3D Surface and Solid Modeling (Parametric as well as Non – Parametric) )
3D Rapid Prototyping for Metallic and Plastic Components. (SLA/SLS/FDM/3D Printing/Metal)
CMM Retrofit and Calibration services.
3D Inspection of Welding Fixtures, Inspection Fixtures, receiving gauges using Portable CMM.
Setting up the assembly line by installing fixtures, line alignment.
3D Inspection of Framing Station. (Complex Weld Stations)
White Light/Blue Light/Laser Scanning on Dies/Moulds and Plastic Parts. (ANY SIZE, ANY KIND)
High precision inspection using VMM for small and precise parts.
2D to 3D and 3D to 2D, OLD/Legacy data conversion.
3D Scanning – Inspection – Reverse Engineering from Small Gear to Complete Cars.
3D inspection of welding jigs and fixtures for Automotive.
3D surface modeling class A and class B from Scan Data
Inspection of very complicated Welding Fixtures (Any size)
3D inspection of panel checkers.
CMM part programming.
Inspection of Large Frames.
3D inspection / Reverse Engineering of dies & Moulds.
Concept Designing.
Setting up of assembly/ Weld lines.
3D inspection of object with tight tolerance
Inspection of Automotive sub-assemblies.
3D inspection services for reverse engineering by creation of surface model.
Inspection of Complete BIW.
3D inspection services for 100% inspection
CMM retrofit services.
Calibration of BIW welding line.
Measurement and Modification of BIW welding line.
Measurement and correction BIW welding line.
Truck chassis assembly line measurement and correction including frame squaring fixture and chassis inversion process.
Checking of door panel for correction of dies of door panel.
Checking and correction of BIW welding line.
BIW Inspection
BIW line inspection and correction with reference to 2D Drawing.
BIW line inspection and analysis report generation.
Chassis welding line correction.
Inspection of chassis.
Chassis welding line correction and setup.
Shifting of old BIW welding line.
Reverse engineering of trim, interior plastic parts, and bumpers of a running model for Upcoming model.
(World truck) cab measurement and correction report
Cab and BIW welding line inspection including major assembly panel validation.
Cab and BIW welding line inspection including screw body checking fixture validation.
Scanning and Modelling of complex engine machined parts
Vision Measurement Based Inspection of Child Components
Shop Floor Inspection Gauges for Measurement of parts belonging to a similar Family