The compact & mobile 3D structured light scanner
by Hexagon
Blue Structured Light Scanners, commonly known as Blue Light Scanners are a type of Scanners especially useful for 3D point cloud generation of very precise and accurate parts.
The biggest strength of this series of this scanner is the accuracy it provides is superior to any other Scanning technology available in the market.
3D BLUE LIGHT SCANNER


OVERVIEW
The compact and mobile 3D structured light scanner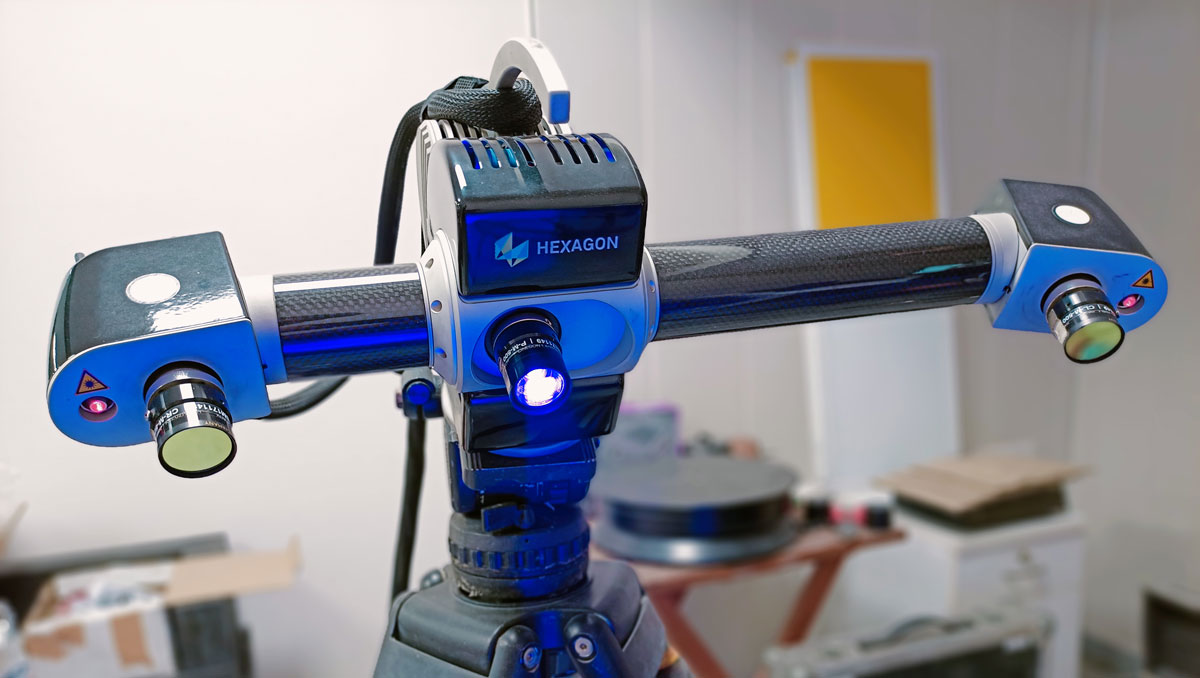 The SmartScan optical 3D scanner is one of the most popular measurement methods for complex surface geometries and fragile or deformable objects that require portability.
The SmartScan's non-contact structured light scanning technique allows for rapid data capture at a high level of detail. The scanner's small size and light weight enable it to be used on the go, even in difficult industrial settings. Because of its carbon-fibre structure, the scanner maintains very steady and consistent performance even when temperature fluctuates.
The SmartScan offers effective and economical area scanner measuring performance across applications such as quality control, reverse engineering, and rapid prototyping, and is availaible in a variety of system configurations.
The SmartScan system is also compatible with a high-end photogrammetry system from the Digital Photogrammetry series, allowing even much larger objects to be photographed and digitised down to the smallest detail using the SmartScan's white light scanning technology.
Objects are digitised in seconds with the SmartScan, regardless of their size or complexity, and are immedietly availaible as high-precision 3D data in a variety of standard formats for further processing.
Simple and precise optical 3D scanning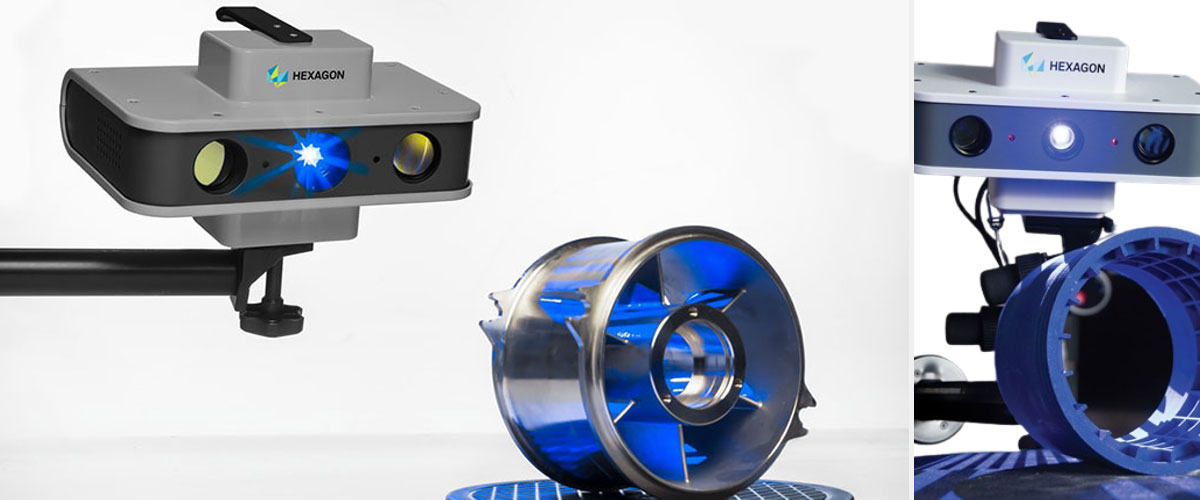 Hexagon's PrimeScan optical 3D scanner range is a cost-effective entry-level solution for 3D digitisation of industrial components. The PrimeScan, like other Hexagon structured light scanner models, uses fringe projection technology to deliver the maximum luminous power and projection quality.
The area scanner has a very small footprint, with a base area the size of an A4 sheet of paper and a weight of less than four kilos. The PrimeScan's compact design, combined with its short working distance, makes it perfect for scanning in difficult-to-reach regions, such as on a desktop or in a narrow and difficult-to-reach part of an industrial environment. PrimeScan's robust architecture also makes it suited for usage on robots.
The PrimeScan's strong projector allows it to scan glossy and dark surfaces without the need for pre-treatment, and the scanner's integrated laser pointers make it simple to place the measuring object. Within greater volumes, certain robots and attachments offer both automated measuring and convenient data gathering.
Different camera resolutions and measuring fields are available for the PrimeScan depending on the needed resolution and precision. The blue light scanner comes in eight preset configurations, allowing users to pick the best instrument for their digitization needs.
Without and pre-treatment, scanning of shiny and dark surfaces.
Quick and easy measurement field interchange, as well as a modular system setup that may be upgraded.
Fast collection and changeable resolution are possible with smart data capture technology.
High-resolution camera sensors provide the highest level of feature accuracy.
The MI is compatible. Probe for measuring areas outside of the scanner's line of sight.
Design is compact and light, making it perfect for mobile use.
Compatible with turntable and turn-tilt units for semi-automated measurements.
Combination with
DPA Series
For greater accuracy and capabilities for large-volume measurement, combine with photogrammetry devices from the Digital Photogrammetry series.
Dedicated Software Plug-ins
Through dedicated Plug-ins produced with the SLS SDK, Hexagon's structured light scanning systems enable for deep integration with the top third-party metrology software platforms.
What is the main difference between
Smart and Prime Scan

? Which one should you go for?
SmartScan supports Multiple Field of Views while PrimeScan supports only a single Field OF View. In smart scan you can interchange the Field of View depending upon the accuracy required and the size of the part. PrimeScan has the configuration it was ordered. The Field of View cannot be changed or swapped.
PrimeScan is comparatively lower priced than SmartScan.
SmartScan is useful for organizations that have variations in their part sizes and the desired accuracy. PrimeScan is useful for an organization that manufactures a single family of parts.
| | PrimeScan | SmartScan |
| --- | --- | --- |
| Field of Views | PrimeScan supports only a single Field of View. The field of View will be able to give accuracy according to the fixed field of view configuration it has come in. | SmartScan supports Multiple Field of Views. The field of view of the machine can be changed depending upon the part size and accuracy requirement. |
| Price | Lower Price in Comparison to SmartScan | Higher Price in Comparison to PrimeScan |
| Part Types | Can Support the Same family and size of parts of the configuration of Field of View it comes in | Can Support Large Variety of part types because of ability to change Field of Views |
| Overall | Good for organizations which are going to Inspect or Reverse Engineer the Same type of Parts. | Good for organizations which are going to Inspect or Reverse Engineer Parts of Different Shapes and sizes with different accuracy requirements |
Advanced Structured Light Scanning and Smart Phase Projection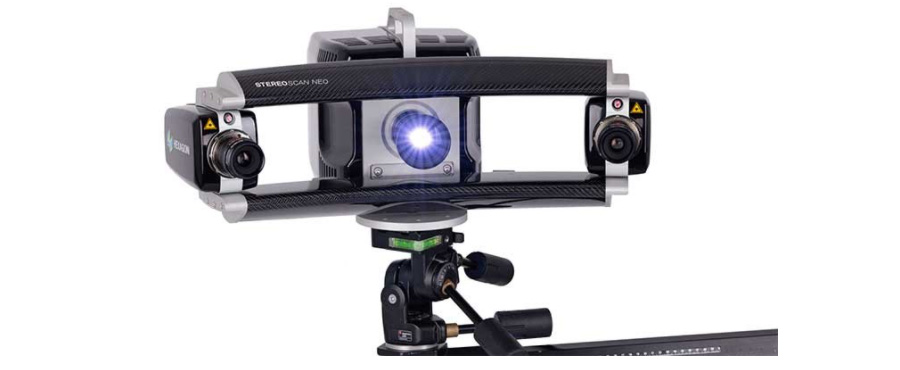 As an unrivalled high-end structured light scanning system, the StereoScan Neo delivers superior resolution and accuracy alongside an array of innovative features that make area scanning more comprehensive than ever before. Hexagon StereoScan Neo uses advanced high-tech Structured Light Scanning to provide high resolution and accuracy during wide Scanning of parts and products.
The SteroScan Neo comes with advanced Smart Phase Projection Technology which uses a new fringe projection technology to give the best quality results even on difficult surfaces. It also enables scanning of glossy and dark surfaces without the need for pre-treatment
The StereoScan Neo uses Variable Light Projection Technology to enable the projection of the deviation results color-coded on the product itself. This allows the customer to easily visualize where the material is less or more than the required tolerance band
In the tool and Mould industry, these projections can right away be used to correct the tool saving time and costs.
Short scanning times achieved by advanced digital Projections
Enables Scanning of even dark and glossy surfaces
Fast Data acquisition and variable resolution.
Result projection with deviations
Full-color back-projection of measurement results for easy post-measurement analysis.
Change field of view quickly and easily
Automation ready with Dedicated software plug-ins
Hexagon's structured light scanner systems allow for deep integration with the leading third-party metrology software platforms through dedicated plug-ins created using the SLS SDK.
Maximum degree of feature accuracy through high-resolution camera sensors.