Every Measuring Equipment Requires calibration. Only calibrated equipment can give proper results during the Inspection of parts. Geo Informatics is a one-stop provider for calibration and calibration verifications of equipment such as CMMs, VMMs, 3D Scanners and Portable Coordinate Measurement Machines.
Geo Informatics is going through NABL Certification which aggregates ISO:IEC:17025 (Under Process)
Why choose Geo Informatics for Calibration Services?
Geo Informatics, being the distributor for CMM VMM Scanners and Portable Arms, has the capability to understand and hence verify these machines.
Geo Informatics has special-purpose tools that can not only do calibration in the X and Y coordinates but also do stage-wise volumetric calibration which other companies cannot.
Geo Informatics uses high end technology such Glass Grids as per latest updates in International Standards, while many other organizations are using older Technolgies such as Glass Scales.
What type of equipment do we do calibration verification for?
Vision based systems (Both 2D and 3D)
Co-ordinate Measurement Machines
Scanners both Structured Light and laser based in nature
Portable Co-ordinate measurement machines with both probes and scanners
Laser Tracker Calibration
Standard industrial Gauges
Calibration of Industrial Fixtures
Robots Volumetric Calibration
What Brand of equipment can we do calibration verification for?
No restriction, we can do calibration verification of all the equipment regardless of the brand they belong to.
What standards do we use to calibrate our customer's equipment?
We verify according to
NABL standards
ISO standards
NIST standards
VDI Standard
Depending upon the equipment and the organization
OQ/IQ/PQ in medical Industry
Geo Informatics provides Support in either all the three OQ/IQ/PQ or in IQ and PQ depending upon the Inspection Equipment is accordance with CFR21 Part 11
Equipment we use for calibration
Glass Grids (As per latest International Standards)
While most industry is using glass scales to verify errors in X or Y axis, but this method does not calculate or compensate any radial error which makes the machine inaccurate and not repetitive whenever the part is not kept parallel to the X or Y axis while Geo-Informatics uses Glass Grids for calibration of Vision.
Measurement Stage, which not only covers X and Y error calculation but also compensates radial errors on the entire stage. This makes our machines free orientation boundaries for placing the part on the bed and maintaining high accuracy good repeatability irrespective of the orientation of the part.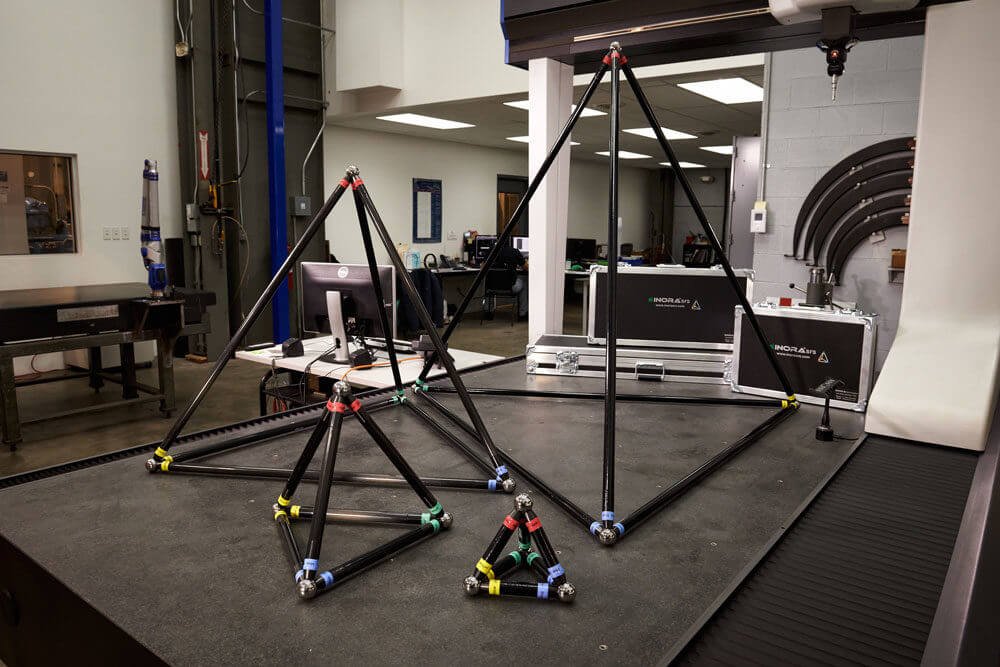 INORA SRS – Tetrahedron ball bars to find true volumetric errors
In comparison to traditional calibration verification methods, SRS uses latest Industry Standards to calculate true volumetric errors in all axis in comparison to linear error calculation done in X Y and Z axis by CMM calibration using Spheres or Step Gauges.
For example – Old ISO standards says minimum 6 points required to form a sphere to calculate errors of CMM probing on master sphere in general most of the CMM brands using 6 to 12 points to compute the error on master sphere while SRS uses minimum 25 points on each
sphere as per latest update in ISO standards to give you more accurate and reliable results, improving the overall performance of the machine.