Geo Informatics for over Two plus decades has now been working with Indian defense organizations such as HAL, DRDO, OFB, ISRO etc., for various defense and aerospace applications such as Inspection of child parts, Scanning, and reverse engineering of big Aerostructures, etc. Our Reverse Engineering and Inspection Solutions are in line with the make-in-Inda concept of the Indian Government by enabling defense organizations to maximize the indigenization of their products.
Our Product based solutions for the
Defense

Industry
Vision Measurement Machine
Vision Measurement Machine by Micro Vu is the optimal machine for the measurement of precise small machined parts. From child parts of guns to child parts of aero-engines, vision measurement machines are the best solution, especially for measurement of Normal Dimensions and GD&Ts on Geometric Profiles
Their benefits are –
Non-Contact Measurement
High Speed of Measurement
High Accuracy and precision, with accuracy as good as 2 Microns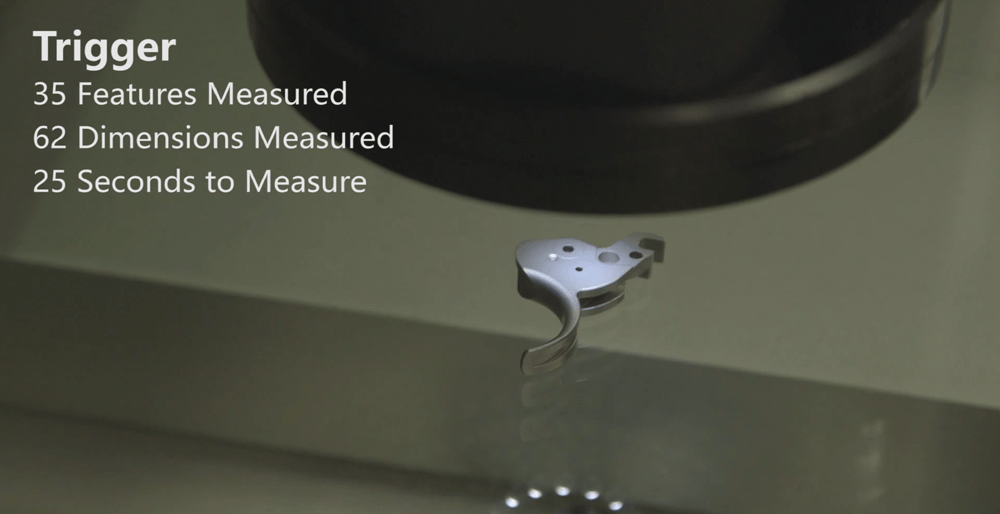 For Small Child parts that are non-geometric in nature, Scanners are the Optimal Solution. The Applications of these scanners include Scanning of Blades to compare against the CAD model, Scanning of Fins, Scanning of turrets etc. Anything which has a non-geometric and non-symmetric profile such as a curve cannon be measured by a conventional CM, hence the optimal solution for these types of parts is a Scanner. They can easily handle parts between the size range of 0-5m without photogrammetry and 5m – 20m using photogrammetry and laser tracking. There are various variants of Scanners which Geo Informatics uses depending upon the required accuracy and the size of the part. This Includes –
Blue Light Scanning
Laser Scanning
Scanning via a Handheld Scanner
For Assemblies and Aerostructures
Scanners are especially useful for Inspection and reverse engineering of non-geometric, free form, curvature-oriented profiles. Some of the applications which can be done include reverse engineering of Drones, Inspection of Submersible special purpose vehicles, etc.
For Applications where the part size can be anywhere between 5m to 80m, Geo Informatics uses Laser trackers and Photogrammetry solution to ensure accuracy even on such a large part size.
Laser trackers are good for Scanning, Inspection, and reverse engineering of large-sized aerostructures and Rockets They are also used in alignment and symmetricity check of sub-assemblies of aerostructures. Any Assembly bigger than the size of 10m up to 80m can be measured, positioned, scanned, and inspected using this equipment. This equipment comes with various
GapGun
by Third Dimension
Gap and Flush measurement equipment is a Laser Guage with Propitiatory software that is used in various applications in the defense and aerospace industry such as –
Gaps, Flushes, Steps, mismatches between the sheet metal panels of an aircraft
Chamfers and radii on thrust chambers of Aero Engines
Break Sharp Edge of a Blade Inspection
This gauge ensures that not only ensures accuracy in inspection but also reduces the amount of time and effort required in the same process
Other Product Based Solutions
Quality management Systems
by HighQA
Quality Management Systems by HighQA in the defense Industry are used for various applications from ballooning of 2D Drawings, Inspection Plan generation to the collection of Inspection data from the Shop Floor. The Software using its Proprietary Optical Character Recognition Technology for automatic recognition of normal and GD&T dimensions on the drawing and then automatically generates the inspection plan for the same. This tool helps in the reduction of the time required for this process by 80%. This software can be integrated with any CMM for direct collection of Inspection data regardless of the brand the CMM belongs to. The Data can also be collected via the shopfloor terminals integrated with Bluetooth and WiFi Gauges.
Our Engineering Services based Solutions for Defense Industry:
3D Inspection using 2D Drawings (2D Inspection/ Layout Inspection )and CAD Model (100% Inspection/ Profile Inspection).
3D Scanning for Reverse Engineering (Physical Part- Scan Data- Cad Model- Part)
3D Surface and Solid Modeling ( Parametric as well as NON Parametric )
3D Rapid Prototyping for Metallic and Plastic Components. ( SLA/SLS/FDM/3D Printing/Metal)
CMM Retrofit and Calibration services.
3D Inspection of Welding Fixtures, Inspection Fixtures , Receiving gauges using Portable CMM.
Setting up the assembly line by installing fixtures, line alignment .
3D Inspection of Framing Station. ( Complex Weld Stations)
White Light/Blue Light/Laser Scanning on Dies/Moulds and Plastic Parts. ( ANY SIZE, ANY KIND)
High precision inspection using VMM for small and precise parts.
2D to 3D and 3D to 2D , OLD/Legacy data conversion.
"Make in India" : we create 2D Drawings/CAD/Material Testing.
3D Scanning – Inspection – Reverse Engineering from Small Gear to
3D Scanning – Inspection – Reverse Engineering of Small Gear to Complete Tank.
Reverse Engineering of Weapon Systems.
Complete Circularity Measurement for Sub Marines.
3D inspection of welding jigs and fixtures for Automotive & Aerospace.
3D Scanning – Modeling – 2D Drafting – Material Testing of Tanks.
Reverse Engineering of Various Weapon Systems.
Complete Reverse Engineering of Aircraft.
Inspection of Various Aircraft Structures after Hard landing.
Reverse Engineering of Various Composite Parts.
3D Inspection of Fixtures for Aircraft Assembly.
Alignment of Weapons / Subsystems in warship.