The Ultimate Manufacturing Quality Management Software

High QA Inspection Manager is an all-in-one quality management solution for the manufacturing industry that is ground-breaking and comprehensive. It helps businesses of all sizes to automate their internal quality processes and extend them to their supply chain partners, from tiny shops to giant corporations.
It doesn't have to be tough to manage your quality processes.
Inspection Manager has all the tools you need to successfully manage your manufacturing quality process.
One-click auto-ballooning and bill of characteristics for 2D and 3D parts.
Gather and analyse inspection data results from any source.
Automatically generate standard (FAI, PPAP, AQL, NCR) and custom reports.
Store all quality plans, data and reports in an integrated centralized database.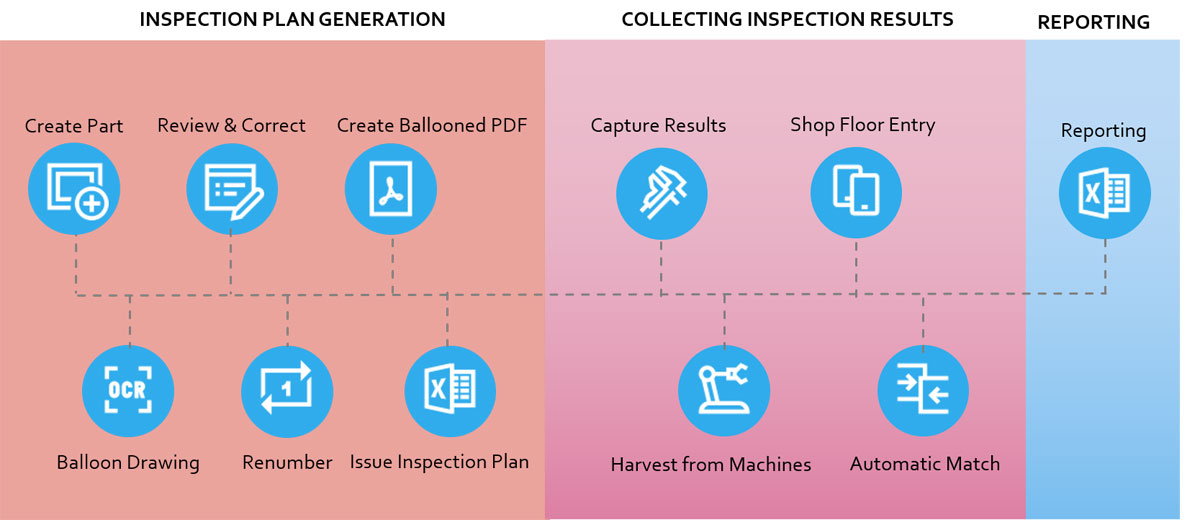 Inspection manager streamlines and automates your quality control procedures. You'll be more efficient, productive, and successful as a result.
Get more information than just a pass/fail grade.
Automates time-consuming manual operations.
Reduce the number of bottlenecks in quality control.
Eliminate interpretation errors.
Develop better quality documentation.
Why you should choose Inspection manager?
| Manual Process | Automated process |
| --- | --- |
| Conventional method | New method |
| Features | Features |
| Cumbersome | Simple |
| Time consuming | Accurate |
| Inaccurate | Repeatable |
| Inconsistent | Fast |
| Hundreds of balloons need to be hand-drawn. Dimensions and notes need to be manually entered into a spreadsheet. Interpretation and date entry errors lead to inaccuracies in quality. | Inspection manager is an efficient, automated digitized solution to balloon drawings and extract GD&T/PMI data into a useable dynamic bill of characteristics. Balloon your drawings and create bill in minutes, not hours or days. |
Reporting (FAI, PPAP)
Automatic dual unit (Metric/Imperial) conversion
Integrated BOM (bill of material)
Expert modules – Auto fastners, Auto welding
Inspection procedures
Inspection instruction library
Inspection tool assignment
In-process inspection plan
Final Inspection plan
Jobs & Lots management
Revision control
Inspection machine data (CMM, VMM, etc.) Results collection
Shop floor data collection (Bluetooth, wireless, manual)
Statistical process control (SPC)
APQP/FMEA automation
2D drawing auto-ballooning with GD & T and PMI
Material & process management
Tool and gage management
Samples management
Manufacturing key sets
User access control
AQL based sample planning
Revision management for multi-page drawing
Part management and traceability
Infrastructure that enables Inspection Manager to function as a Complete Quality Management System
Centralized database driven solution
API for 3rd party integration
Task based user management
Enterprise security access control management
Encrypted communication
Flexible packages and licensing
High QA software solutions provide all the tools and workflows needed to ensure your products are delivered within tolerance, comply with all the applicable standards, and are made in less time with fewer mistakes.
Your demo will be customized to your needs but will generally discuss some or all the following:
Ballooning and preparing your parts for the quality process.
Planning and documenting all necessary process requirements, downstream preparations.
Collecting and importing real-time shop floor results from inspection machines.
Generating, analysing, and sharing all required reports.
Communicating and collaborating with your supply chain.